Bovada Sportsbook Review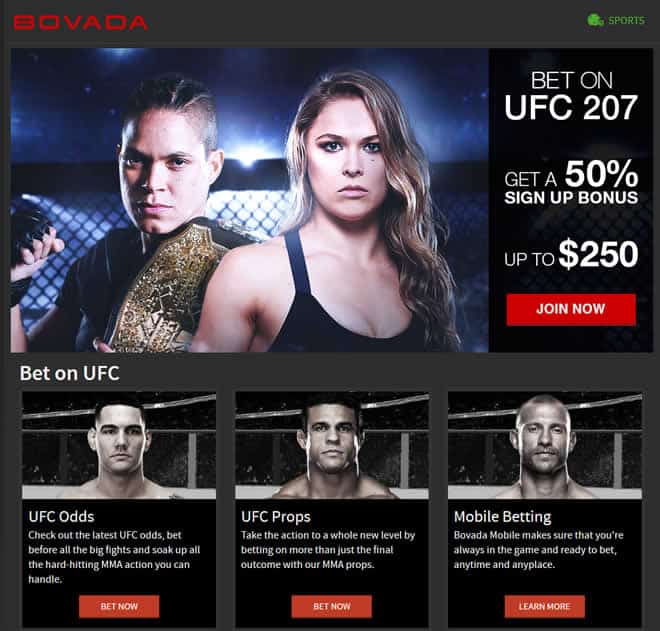 Another solid addition to the online gambling world by parent company Bodog, Bovada is a one-stop-shop for everything in legal online gambling. They cater specifically to US bettors and offer premium betting on every sport imaginable from football, baseball, and mixed martial arts, all the way down the list to cricket, snooker, and winter biathlons in Austria.
They also feature a full online casino offering all the popular games such as slots, video poker, table games and much more. Or if you enjoy betting the Ponies, Bovada also has a racebook which features daily races from over 80 thoroughbred and harness racetracks.
What Types of Bonuses, Promotions and Incentives Are Available At Bovada?
Bovada does a really good job with offering generous incentives and bonuses to new and old players alike. From the minute you sign up, you are instantly qualified for a 50% bonus up to $250 on your first deposit to the sportsbook. Or if you want to enjoy their real money casino,  you can take advantage of their huge $3,000 welcome bonus which is essentially a 100% match bonus up to $1,000 and it can be claimed up to 3x. And it doesn't stop there.  They have weekly promos like "Blackjack Weekends" or "Table Mania Tuesdays" and other ongoing perks to keep their loyal patrons happy.
Is It Legal To Bet on MMA Fights at Bovada?
Yes, it is legal to bet on MMA fights at Bovada sportsbook because they are located offshore and are not bound by US law and its associated restrictions. The only limit they currently face is that they can't accept players from these five states: DE, MD, NY, NJ, and NV. There are three main federal laws in the United States that place restrictions on sports betting companies, effectively prohibiting anyone from owning or operating an online sportsbook within the United States.  Bovada operates out of Canada. There are no federal laws that are currently in place that make it illegal for US residents to enjoy legally sanctioned offshore sports betting. With the exception of Washington state, there are also no state laws that prevent American bettors from engaging in legitimate online sportsbook gambling as long as the wagering takes place at licensed and regulated bookmakers located outside of the US. Put more simply, betting on MMA fights at licensed sportsbook destinations such as Bovada does not violate any US gambling laws.
MMA Betting Lines at Bovada
Bovada covers every major MMA fight and all UFC events. This brand also covers fights from organizations outside of the UFC, such as Bellator.  They have up-to-date betting lines and keep an industry standard on all the betting odds. They offer individual match-up betting as well as parlay betting if you're feeling especially insightful on your predictions. You can add up to 12 bets into a parlay bet slip and use what are called 'Round Robins" to easily configure which combination of parlay bets best suits your style of betting. They do happen to offer the best parlay odds in the industry. Prop bets are often featured for the prominent fights as well.
Does Bovada Offer Mobile MMA Betting Options?
Bovada.lv is mobile friendly and fully accessible using the browser on your smart phone or tablet. From there you can make deposits, request payouts, and most importantly, place bets! These web based applications are mobile optimized so they are compatible across a range of devices, operating systems and mobile networks. There is no central mobile app created by Bovada that you'll find in the app stores, although there are numerous apps that are directed at tracking bets and listing guides specific to Bovada.
Is Live MMA Betting Available At Bovada?
Bovada typically offers live in-play betting on any big UFC and Bellator event. They will include these fights under the 'live betting' section which is at the top of the sports menu.  Live betting allows you to pace bets during the fight as it progresses, blow by blow.
Is Bovada Sportsbook Legitimate?
Since 1994, Bovada's parent company, Bodog, has developed a reputation of reliability in the online gaming community. Bovada is legally licensed and regulated out of the Kahnawake Gaming Commission, based in Canada, which makes it federally legal to provide a lawful avenue of gambling for American citizens from most states. Bovada holds a certificate of compliance that validates their random number generator (RNG) for absolute statistical randomness that is "uniformly distributed." That certificate is posted publicly on their homepage, located at the very bottom of the page and at the click of a little blue half circle that makes the "ITech Labs" logo. ITech Labs is a respected authority agency known for their effective auditing of gambling technology.
Banking Options For Depositing and Withdrawing Money at Bovada
Currently there are two main depositing options for Bovada.lv, credit-card and Bitcoin. Visa and MasterCard are accepted and if your Visa or MasterCard gift cards are qualified for "International and Online Purchases" they will also be accepted. For withdrawing money from Bovada there are two ways you can do this. You can get a paper check sent to you or you can choose to have your funds sent to your eWallet using Bitcoin digital currency. Paper checks tend to be the slowest because they rely on standard courier procedures. The easiest way to handle the ins and outs of your online gambling finances is through digital online currency like Bitcoin.
What Type of Security Is In Place At Bovada?
The team at Bovada prides themselves on exceeding the minimum licensing requirements when it comes to internet security. They employ an advanced security array that includes SSL data encryption, Firewall protection, and antivirus software. Their secure servers are monitored by a technical team 24 hours a day and are at the pinnacle of new technology when it comes to fraud prevention software to protect both their customers and themselves from any rapacious attacks. These security measures are scrutinized by third party agencies who specialize in finding weaknesses in these types of protocols.
Reasons Why Bovada Is A Good Option For Online MMA Betting
Bovada always has the most recent betting lines and match ups available for any UFC fan. Their system is clean and streamlined for convenient use and is ideal of UFC fans looking to enhance their immersion into the world of mixed martial arts. Their reputation of integrity with banking solutions and their fast payout system makes them among the top sports betting websites in the world. A commitment to advanced security protocols that exceed the minimum requirements takes all the wrong kinds of stress out of online sports betting with Bovada. The promotions they offer and the deposit and withdraw options available make Bovada an easy, reliable source of gambling entertainment in the world of UFC sports betting.
Summary
Bovada is able to provide a high quality source of internet gambling that really sets a standard for the rest of the industry. In business now for over 20 years, Bovada's parent company, Bodog seems to hold the key to success as an online gambling resource. Functioning within legal jurisdictions outside of the United States, it remains legal for residents across the country to place bets online (only having to refuse people from those five states listed above).
They have an online casino with slots and blackjack, video poker, and even specialty games for you to browse. A racebook that covers regular races from over 80 thoroughbred and harness racetracks and a sportsbook that has every sport imaginable in it. When it comes to sports betting on MMA they consistently have the most current betting lines for the UFC and Bellator fights and make parlay betting easy and enjoyable.
Bovada employs some of the most stringent security measures in the internet gambling community and prides themselves on consistency and reliability. Their compliance certificate that authenticates their RNG is located right on their homepage and at the footer of your entire Bovada experience. They offer several deposit and withdraw options for you choose from and welcome promos that make membership that much sweeter right from the beginning. Whether your betting on winter biathlons in Austria, live-betting on soccer(futbol) in the UK or putting together your best parlay combinations for mixed martial arts here in the United States, Bovada is a trusted and reliable source for internet gambling.
Bovada Rating
Reputation

Payout Speed

Promotions

MMA Betting Options